For whom does the centre console boat fit?
The centre console boat is especially well suited for use related to holiday homes, estates at the seaside, or as shorter daytrip boats. These boats have a large practical space for keeping luggage, building materials, or other items. In addition the centre console can typically transport many people safely. In this type of boat, the passengers on the aft couch is more affected by the wind and weather than in a daycruiser or bowrider, but you have more freedom and space to move around. This often make it easier to maneuver the centre console boat alone. The centre console boat is also often used as fishing wessel and this boat type is very practical if you are using watersport equipment like wakeboard, water ski or tube.
The centre console boat is also very easy to keep clean and do maintenance on. Most parts of the boat is easily accessable.
Centre Console boat with and without cabin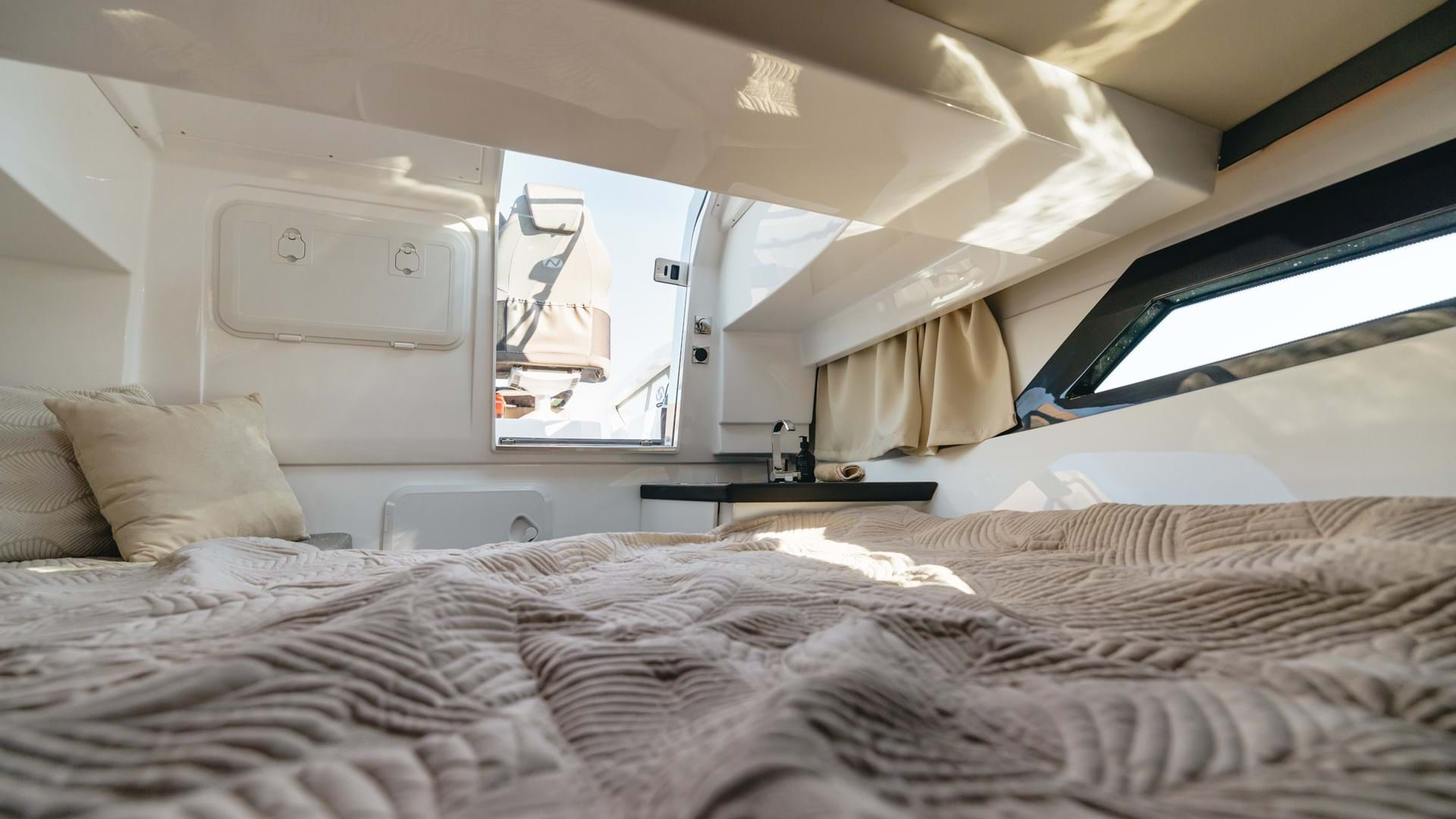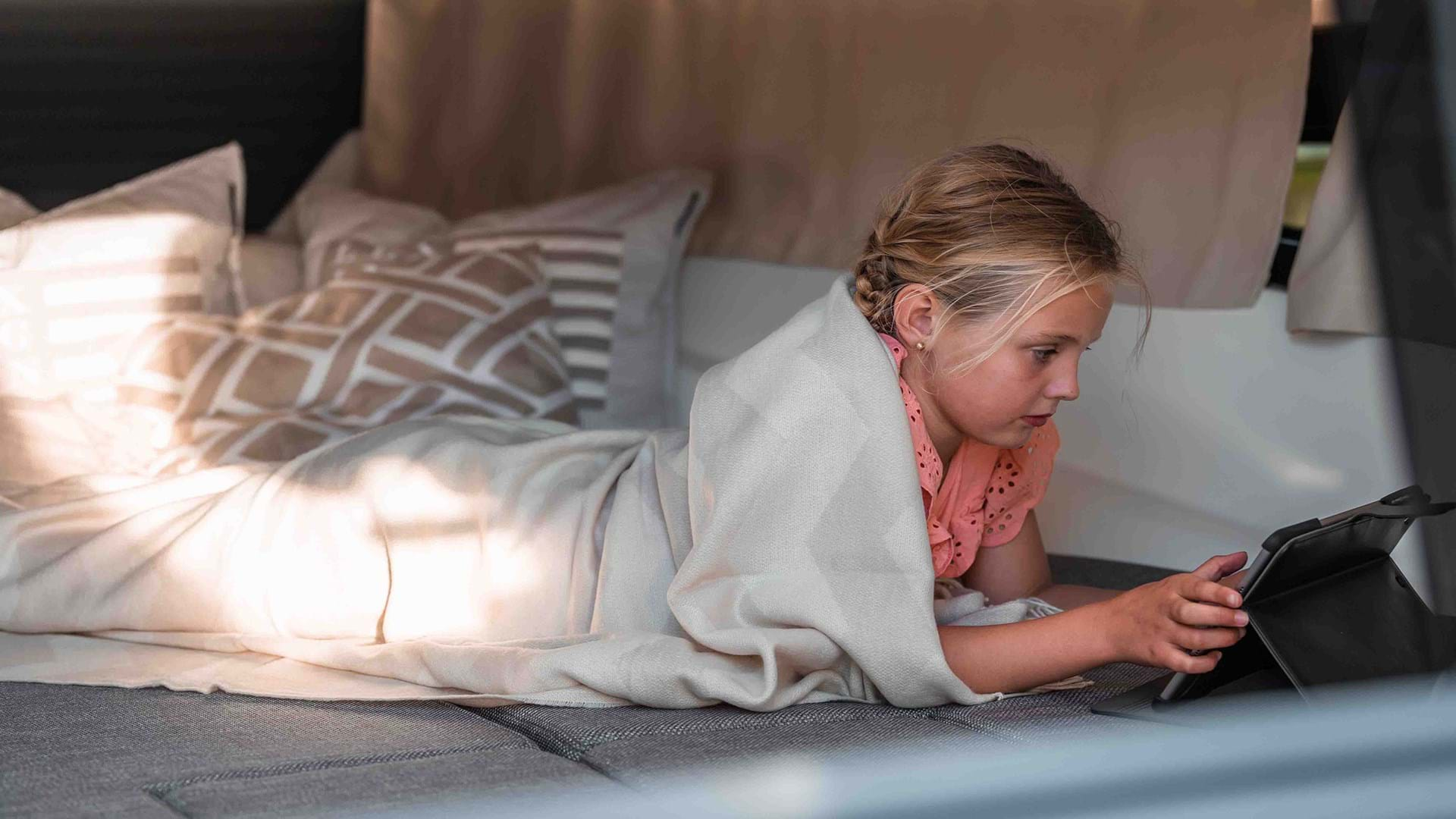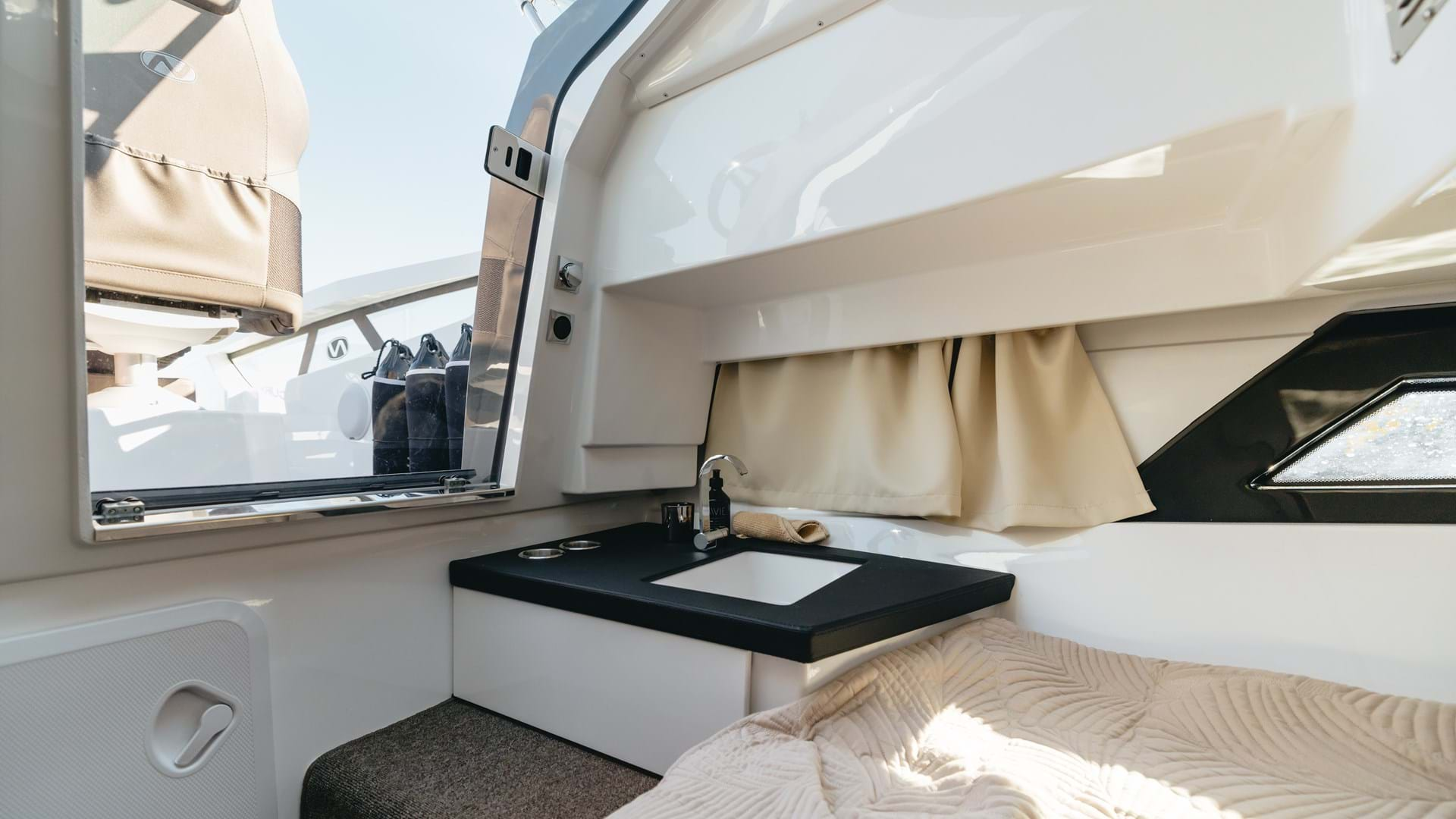 Design of the hull, functions and cockpit design – what can you expect from a centre console boat?
Sporty driving characteristics is often associated with the centre console boat, and many people are looking after those type of sea performances. Some of the things you should evaluate if you are looking for a centre console boat is:
 Centre of gravity
The centre of gravity on the centre console boat can sometimes be higher than that of a bowrider or daycruiser due to the fact that the console and you as a driver in many models are seated higher up. Test the drivers position and see how the boat feels.
 Speed:
Centre console boats speed ranges varies from 15-20 knots and all the way up to 60-70 knots for the fastest ones. Normally the top speed of a medium sized centre console boat is around 35-40 knots.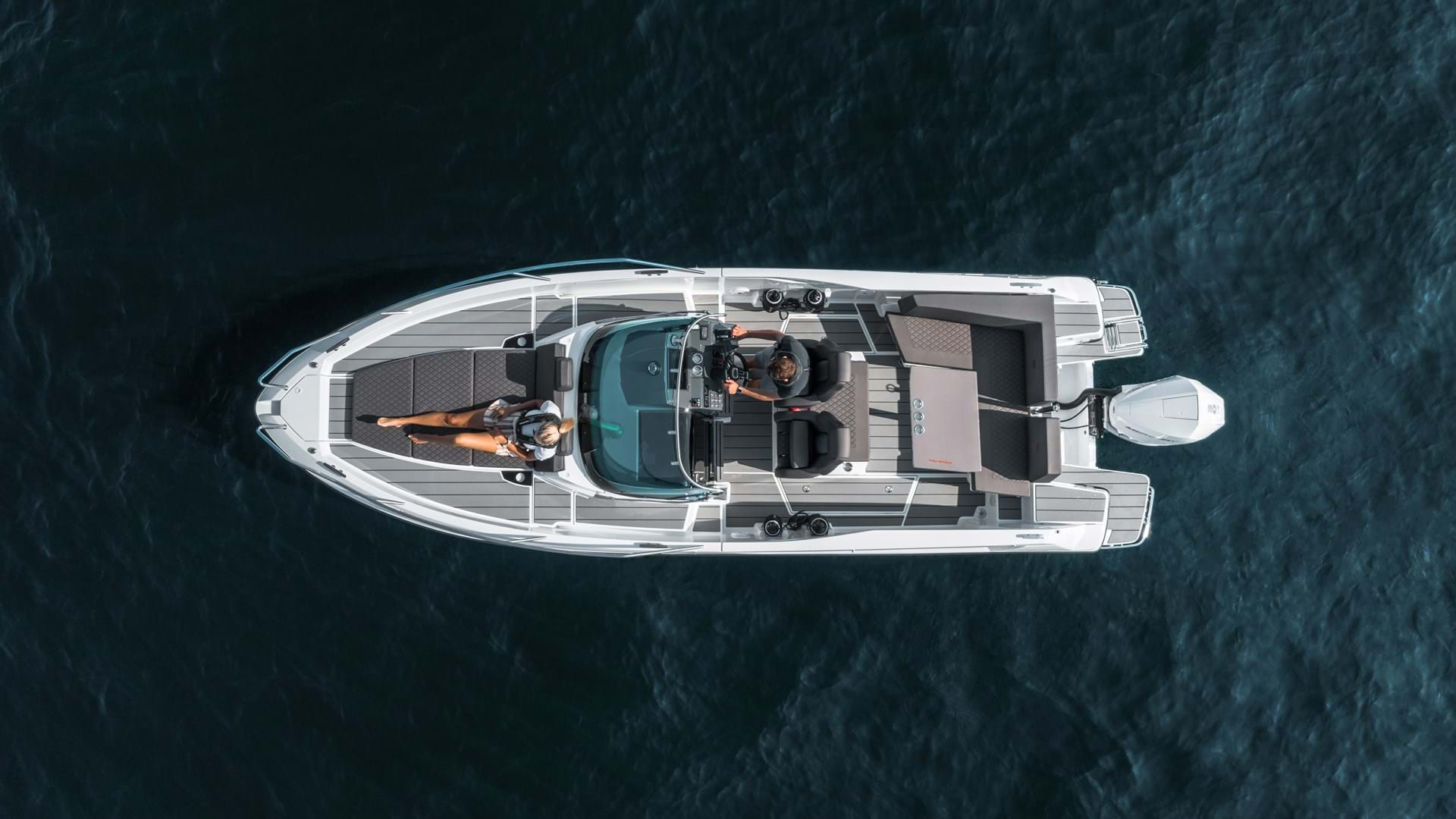 Equipment in the centre console boat – what should you emphasize?
Windscreen and canopy
The windcreen and shielding the passengers is generally less in a centre console boat compared to daycruisers and bowriders. You can still find large differences between the different centre console boats . Our best advice is to sit down in the drivers position and really test how it feels; the view the potential shield from wind, and comfort.
Several centre console boats are delivered with sprayhood which is very handy when sudden rain appears or you are running into bad weather. Some centre consoles also have a full canopy, its a good idea to check this thoroughly.
Sprayhoods are fairly easy to assemble, but its a good ídea to check this when you are evaluating several models.
The sprayhood can easilly be the difference of a boat merely being used in nice weather and a boat that can be used regardless of weather.
Space in the bow
Check how the sunbed is solved and how the assembly of this is. Is it according to your needs and how you would use it?
How is the deck space used in the bow section, cockpit and aft cockpit? Is it easy to get from bow to stern easilly? And how are the storage compartments placed?
Storage compartments
How many compartments for storage does the boat have? Is it easy to use them?
Is the boat equipped with a mini cabin or a cabin? If so, this is a perfect place to store luggage and makes it easier to keep the deck space clean and tidy for the entire trip.
Storage of fenders: Many centre console boats have smart storage areas for fenders, which even allows you to have them ready at all times. Think about the practical use, especially if you maneuver the boat alone.
Electricuty and outlets
Check if the boat has 12 outlets and where they are placed. You should try to think of how and where you charge your devices.
Some centre console boats are delivered with double battery systems, which will give you a service battery for 12V outlets, fridge, lights, navigation and stereo. This is a beneficial feature when you are going out for a full day at sea, without the engine running and you will always have a fully charged start battery.
Windshielding in a centre console boat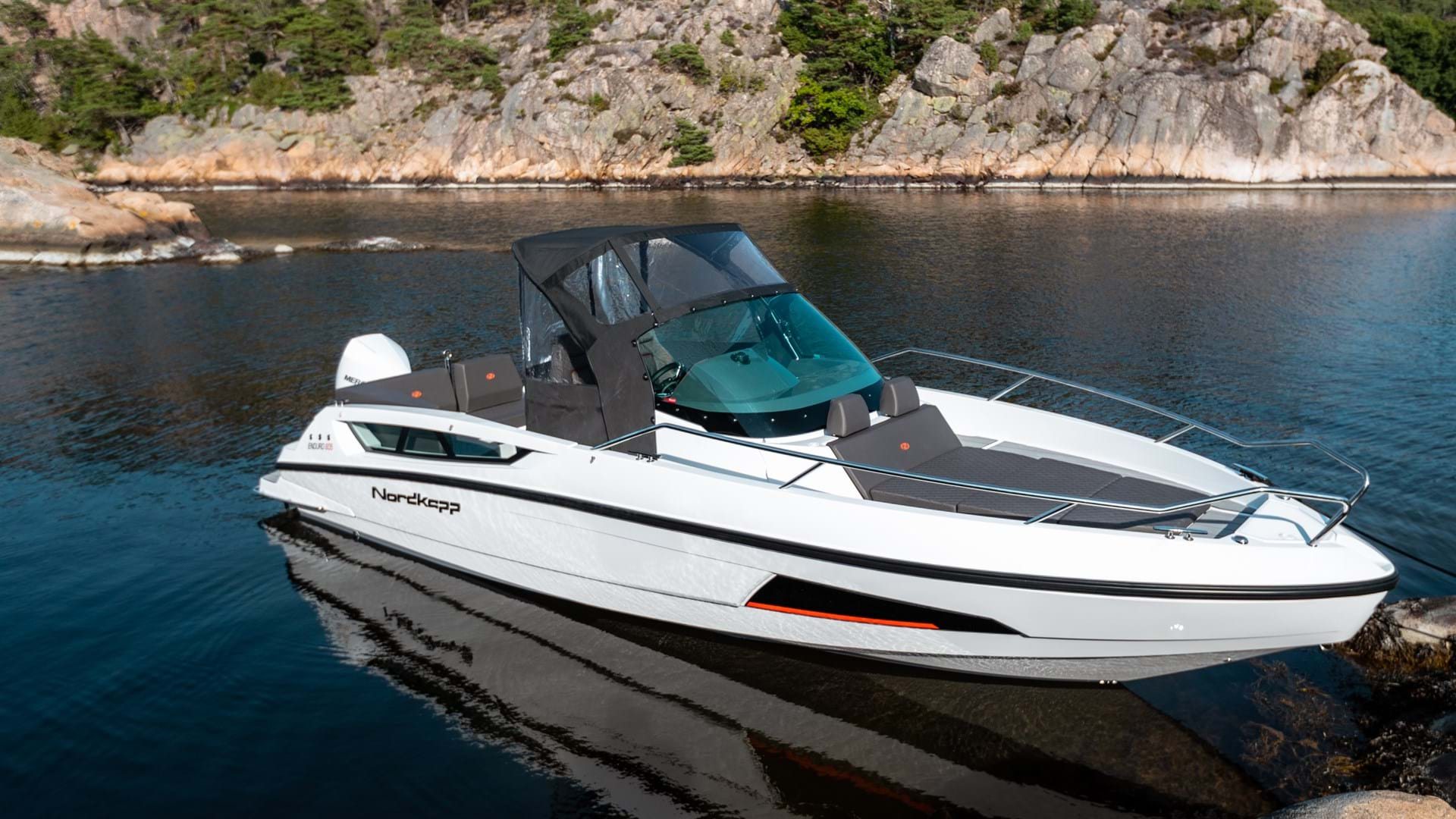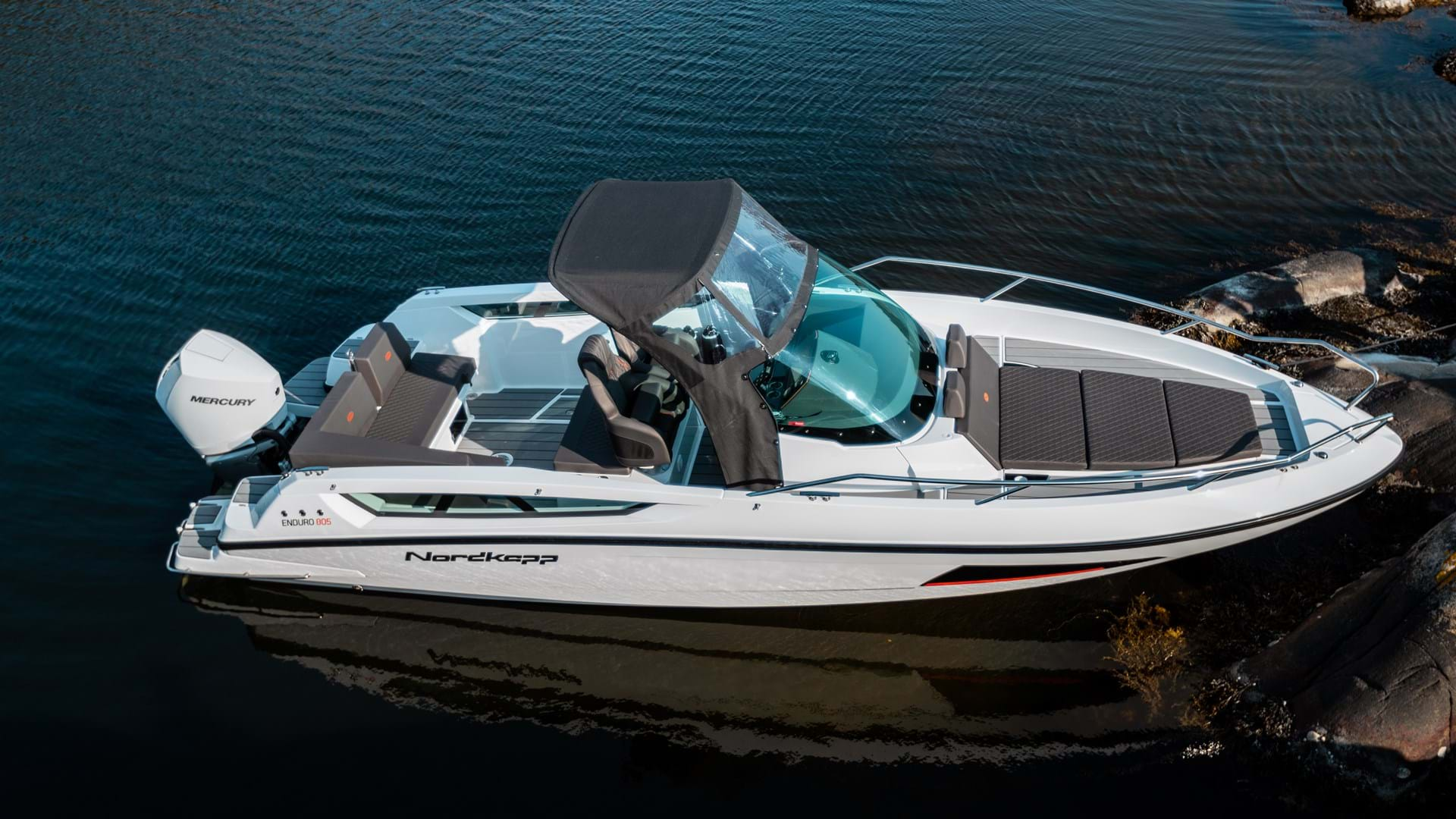 Centre console boats from Nordkapp