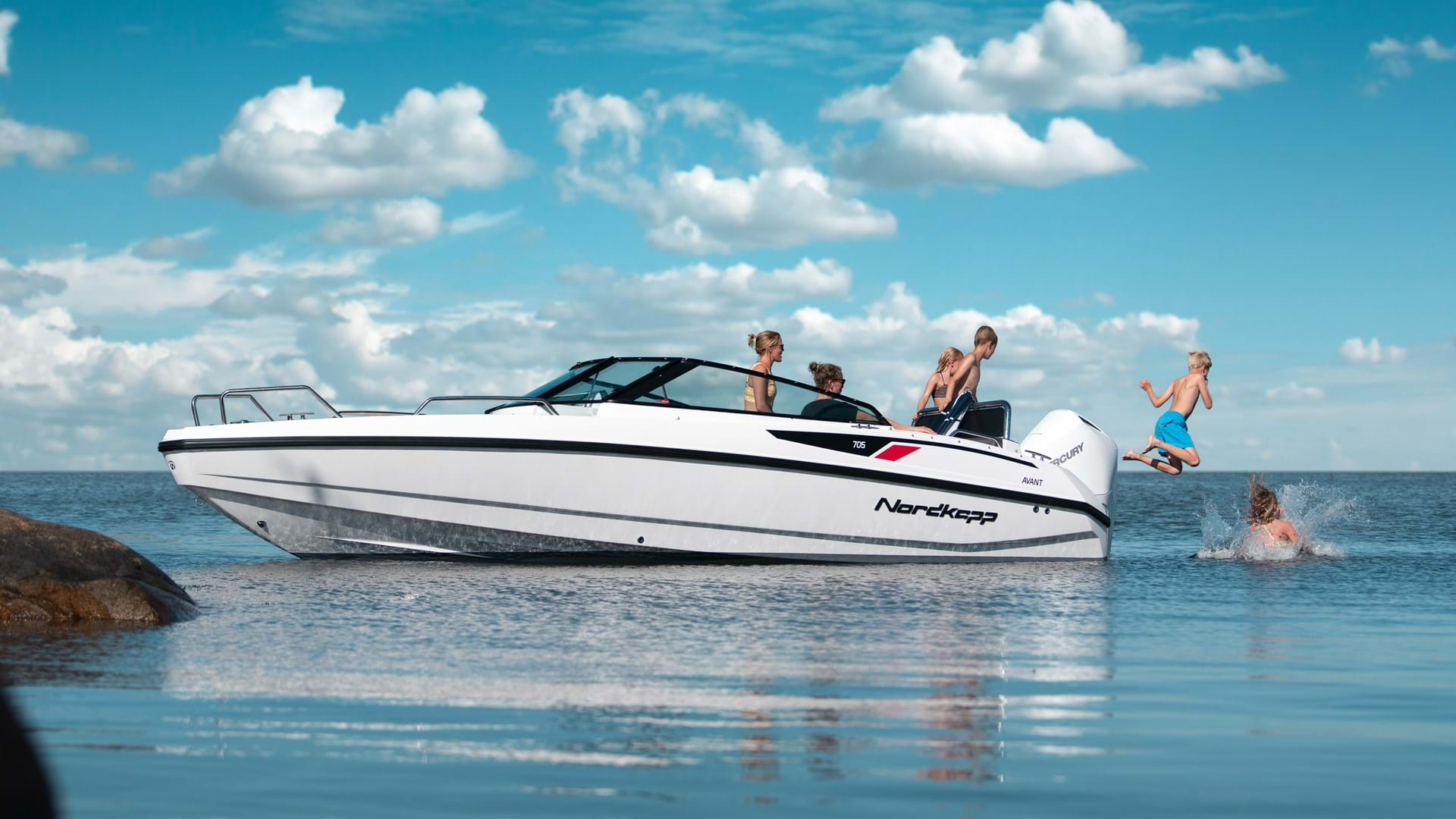 Who is the bowrider suitable for?
The bowrider is often mentioned as a family boat, where the focus is in the cockpit area. A good start to find out if the bowrider is suitable for you is to start defining your needs (and the needs of your family). Below, we are listing some of the things you should think through.
7 meter bowrider. This is Avant 705.
The bowrider is a type of boat known for its open bow section. It is often built on similar daycruiser models, but many of the bowriders are also built as own hulls. The idea behind the bowrider was to give the passengers an experience shielded from the wind while at the same time providing an easy driving experience. 
Design of the hull, the function and deck space – what should you expect?
The design of the hull of the bowrider will differ from brand to brand. Some have more steep angle of the hull, some have larger deck space, some have more space behind the windscreen and some have larger space in front of the windscreen. Generally the steeper hulls take on the challenges from rough waves better, while the wider hulls and less steep hull angles has the advantage of a larger deck space. All-in-all you need to assess your needs and how the boat fit these.
Another area you should adress is how the windscreen is placed. On bowriders with the windscreen placed further towards the bow you will experience a larger space in the cockpit, while you are losing the practical space in the bow or the sunbed area in the bow section. One of the advantages of a larger space in the bow section is the option to use both the bow and cockpit actively throughout the day in addition to finding several practical storage spaces in this section of the boat.
The seating areas also varies from boat to boat. Think through if a U-sofa (covering the sides and aft of the cockpit), an L-sofa or an aft couch is what you want. All of these solutions have pros and cons, so you need to evaluate them according to your needs.